Posts for: April, 2014
Fort Myers Dentist, Drs. Bass and Donovan Dentistry provides the residents of Fort Myers and surrounding communities with cosmetic dental care. One of those treatments offered is veneers. Veneers are a type of cosmetic dentistry that can, without the need for excessive tooth preparation, offer exceptional improvements to a smile in just a few visits.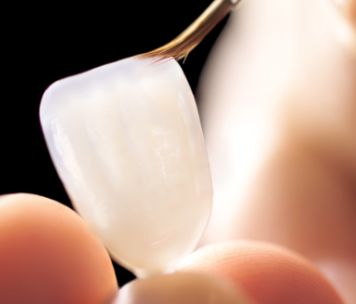 Veneers are thin porcelain shells that are placed over the front of teeth. They are designed to correct slightly misaligned, crooked, stained, cracked, or chipped teeth. Many of the celebrities you see in magazines, movies, and television have gleaming straight teeth that are the result of veneers. One benefit of veneers is that the teeth do not require much preparation (grinding) to become reduced enough to facilitate the restoration. This is extremely important in dentistry because one of the main goals for dentists is to retain as much healthy natural tooth structure as possible.
Crowns vs. Veneers
There are some similarities between crowns and veneers. First, both of these restorations can be extremely esthetic. Both can be fashioned from porcelain. Porcelain has the ability to mimic the natural opacities and translucencies as tooth structure. In addition, both can correct the problems listed above. There are, however, several major differences between crowns and veneers. The amount of tooth reduction is probably the largest difference. A crown covers the entirety of the visible portion of the tooth. For a crown to be placed, a relatively large amount of natural tooth structure needs to be removed or else the crown will be bulbous as well as feel and function wrong. This is one of the larger benefits of veneers.
One drawback of the veneers is that they do not provide much support for the tooth like the crown does. If a tooth has had a root canal, large cracks, or significant cavitiy restoration, a crown can provide support. It does so by encircling the tooth. This keeps any existing tooth structure sequestered in a tight shell. This is why veneers have been placed in the category of cosmetic dentistry and crowns are more often thought of as a restorative procedure.
Here is an animated video showing veneer preparation and placement
If you have any additional questions or would like to contact us to schedule a consultation, please call (239)939-4737 or email us at [email protected]
Drs. Bass and Donovan Dentistry; How to Pick a Great Dentist
Drs. Bass and Donovan Dentistry is a Fort Myers based dentist providing family and cosmetic dentistry services. We are dedicated to providing superior service as well as patient education. We are beginning our blog by answering a question that many people have to ask during their lifetime.
Have you moved recently? Are you looking for a new dentist? Do you have a dentist? If the answers to
any of these questions are yes, we encourage you to read on. The dental profession can be difficult to navigate if you are a patient looking for a dentist. What is endodontics, periodontics, orthodontics? What is the difference between a family dentist, a cosmetic dentist, and a general dentist? How do I trust what the dentist is telling me? We will answer many of those questions and hopefully give you an idea on how to find that dentist that suits you perfectly.
Where to Begin
First of all, dentistry can be very generally divided into general practice and specialty dentistry. The terms listed above (periodontics, etc.) are dental specialties. For the most part the patients that visit these practices are referred to the practices by a general dentist. There are no American Dental Association recognized dental specialties for cosmetic dentistry or family dentistry. If a dentist calls themselves a family dentist that would indicate that they would like to inform prospective patients that they would love to treat the entire family. Similarly if a dentist calls themselves a cosmetic dentistry practice, they would love to be doing veneers, whitening, etc. Practices similar to ours do not specify these desires in the name of the practice. At Drs. Bass and Donovan Dentistry, we would love to treat the whole family and provide cosmetic dental treatments as well. We just enjoy dentistry.
What to Look for in a Dental Office
There are several things that you can look for when choosing a new dentist. First, it can be beneficial to evaluate that dentist's online presence. There is certainly a correlation between a dentist that is thorough with this segment and all other aspects of the practice. Read online reviews. It is important to remember that bad reviews are worse than no reviews at all. Second, feel free to call the practice on the phone. The conversation should be friendly and welcoming. Feel free to ask about the doctor's credentials. Dental education does not end when denal school is over. There is a myriad of continuing education courses available for dentists to attend. This experience can make a significant difference in the enjoyment of the patient experience.
If you choose a dentist office to visit, there are a few other things to look for. First of all, all members of the staff should be friendly, helpful, and offer education. The importance of this cannot be overstated. Healthcare professionals should all have the best interests of patients in mind. Next, look around the office. You should recieve a tour if requested. Is it clean? The dentist is a doctor of surgery. A clean office should be a good sign in predicting the cleanliness of the operatory. Finally, talk to the doctor. The dentist should be friendly and informative in a way that a "non-dentist" should understand. The idea that a surgeon with pitiful bedside manner should be tolerated because they are good at surgery should not apply to dentistry. We would like this experience to be as enjoyable as possible and we hope all other dental practices are doing the same.
If you have any questions or would like to schedule a consultation, feel free to call us at (239)939-4737 or contact us electronically.